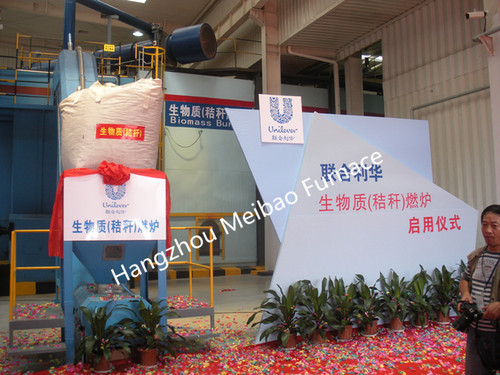 Direct Biomass Fired Hot Air Furnace
Price And Quantity
Set/Sets

20000.00 - 200000.00 USD ($)
50,000 - 1,000,000 USD ($)
Product Specifications
Product Description
With rich market understanding, we are manufacturing, exporting and supplying Direct Biomass Fired Hot Air Furnace. This furnace is demanded for blowing hot air during various applications in food processing, chemical and cement industry. Offered furnace works on biomass fuel thus, doesn't need power to operate it. Besides, this Direct Biomass Fired Hot Air Furnace can be purchased from us at marginal prices in different specifications.
Introduction
Solar energy stores a form of energy called biomass energy in biomass in the form of chemical energy, which means biomass acts as an energy carrier. It is derived from the photosynthesis of green plant directly or indirectly, and can be converted into conventional liquid, solid and gaseous fuels. We have integrated characteristics of products and rural straw resource status, with a motive of implementing energy saving, reducing emission and developing circular economy. We continuously research existing biomass combustion equipment. In the year 2007, we developed the biomass-fired hot air furnace. The first biomass-fired hot air furnace (MBZ1300) was rectified and successfully run in May, 2009, in Unilevel China. In a year, it consumes approx. 25000 tons of biomass(straw) annually, without any SO2 emissions. The emission of greenhouse gas is reducing 15000 tons per year.
High-temperature purifying room, coal burner, air mixing room and control system together make the high purity direct Biomass-fired hot air furnace. This furnace is clean, simple to operate and of low cost. A direct coal-fired hot air furnace has a heat capacity, ranging from 0.5-200 million kcal per hour, and 1000 ℃ as maximum output temperature. Furnace can be attached to any equipment, like drying house, oven, air dryer, spray tower or rotary kiln to dry the products.
Benefits
Adequate combustion, hot air without any black smoke, and good operating conditions; causes zero SO2 emissions, thus meeting the demand of environmental protection.
It creates clean hot air, with dust content between 30 to 120 mg/Nm3.
It achieves heat efficiency of over 95%.
It is easier to adjust the temperature of hot air under 1000℃. Continuous supply of hot air leads to temperature fluctuates within±5℃.
It is simpler to operate and easier to adjust.
It is secure equipment with no danger of explosion.
This hot air furnace is economical to operate, durable and easy to maintain.
The hot air flows into dryer.
Applications
Fertilizers: DAP, MAP, Potassium and magnesium sulfate, compound fertilizer, potassium chloride, potassium sulfate, Organic fertilizer, etc.
Daily-use Chemical: Layered sodium silicate, powder detergent, 4A zeolite, PAA, etc.
Ceramics: ceramic powder (polished tile), pottery, kaolin, glaze, etc.
Chemicals: potassium fluoride, Cacl2, Fe2(so4)3, zinc oxide, dye(activated, deoxidize), PAC, alumina, fluorite powder, etc.
Feedstuffs: vinasse, granular feedstuff, feedstuff additives as CaHPO4 · 2H2O.
Water purifier: Fe2(so4)3, PAC, etc.
Building materials: silica sand, heat insulation board, heat insulation cotton, desulfurized gypsum, ceramic fiber, ultrafine powder, etc.
For environmental protection: phosphogypsum, sludge desiccation, black liquid(lignin), effluent disposal, solid residue, etc.
Others: crumb rubber, ore powder, briquette coal, acetylene cylinder, paper mold, wood and so on.
Our Customers:
Jiangsu Bailing Chemical Co., Ltd.(pesticide residue), Hindustan Unilever Ltd(powder detergent ), Shandong Huantai Fuli New Building Materials Co. Ltd.(PAC), Henan Tianguan Biological Engineering Co., Ltd.(protein feedstuff), Unilever(China) Ltd(powder detergent ), Indonesia Lautan Co., Ltd. Chiplun factory (powder detergent), PT PACINESIA CHEMICAL INDUSTRT (Polymeric aluminum), CÔNG TY TNHH NĂNG LƯỢNG MỚI NHI BẢO, Unilever Pakistan Limited (powder detergent), etc.
Specification:
| | | | | | | |
| --- | --- | --- | --- | --- | --- | --- |
| Model | Heat Output (Kcal/hr) | Biomass Consumption (kg/hr) | Installed Power (kw) | Heat Output Ranges | Temperature Ranges | Dust Content (mg/Nm3) |
| MBZ100 | 100 x104 | depend on | 4.3 | 100 x104kcal/hr | from 100 | |
| MBZ200 | 200 x104 | fuel type | 7.9 | 200 x104kcal/hr | to1000 | |
| MBZ300 | 300 x104 | | 8.8 | 300 x104kcal/hr | adjustable | 40mg/Nm3 |
| MBZ400 | 400 x104 | | 10.8 | 400 x104kcal/hr | | |
| MBZ450 | 450x104 | | 10.8 | | | |
Trade Information
SHANGHAI/NINGBO

10 Per Month
30-90 Days

Contact us for information regarding our sample policy
Standard , PP/PE Strengthen , Wooden Boxes

All India