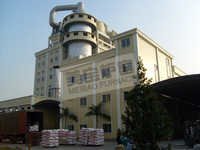 Detergent Powder Plant
Price And Quantity
50000.00 - 2000000.00 USD ($)
Product Specifications
plant/production line

customizable Volt (v)
customizable Volt (v)

customizable Kilograms (kg)
Product Description
Detergent Powder Plant
The production gear receives the procedure of tower spray- agglomeration method, yearly yield limit 5000~250000 tons. Obvious particular gravity of item 0.25~0.50 g/cm3
A wide range of powder materials, fluid materials are weighed individually as indicated by the equation, sent to proportioning tank to make slurry, after hydrated maturing, squashing and sifting by maturing framework, sent to top of shower tower by hey weight pump. Structure fog particles through shower spouts, dried by hot air created by hot air heater. At the base of the tower, empty particles of cleanser powder are shaped. At that point via transporting, maturing, base powder is made. In the wake of sieving, different materials, (for example, compound, shading particles, embodiment, non-ionic and so forth.) should be included into base powder, and afterward set up together into the post-mixing blender. In the wake of blending and pulverizing, last hello there quality cleanser powder in medium and top evaluation is made, and in the end for pressing.
Technology attributes:
Tail-gas after drying is managed by essential deduster and auxiliary hydro-deduster. Spare vitality and meet outflow standard.
Fine powder gathering from dedusting procedure is totally back to tower, enhance yield of base powder.
Workshop environment is given immaculate dedusting framework, guarantee the workshop environment clean.
Control framework can receive easy to use manual operation or central computer incorporated programmed control.
Emissions of waste gas of entire production framework achieve principles, no sewage release.
Further Details:
Detergents are utilized for several purposes, and there are extensive variety of substrates e.g. exterior to be cleared and of soils. We mostly pay attention on chief substrate i.e. textile fabrics.

In detergent powder plant, for engineering of detergents additional than 40 & odd constituents can be utilized. A detergent in detergent factory is a preparation including essential ingredients viz. builders, surface active agents, fillers, boosters, and auxiliaries. Individually these basic substances have its benefits and disadvantages

We not only aid the detergent manufacturing by offering spray dryers [disc atomizers/ Nozzle] but with the team of experienced technocrats and experts, we help our customers by offering technical know-how for detergent formulations with backward integration for the important raw material industrial e.g. sulphonation and sulphation by batch procedure. We offer technical expertise to our admired clients bearing in mind:-


Obtainability of raw materials
Comfort of manufacturing
Price of Raw materials
Cost of engineering
Appropriateness of finished products
Market trend.

We trust in quality, and offer latest logical means for basic resources, intermediates and over goods.

We, being devoted, knowledgeable and specialists deliver our facilities to our customers for detergent industrial all under one roof.

Not only we are content by providing the technical knowledge and detergent industrial plants, we are dedicated to help our customers for up-gradation, optimum output, cost reduction, with outstanding outcomes of the detergents. We take distinct care for amalgamation of optical brighteners, perborates, enzymes and perfumes in spray dry detergent powder.

We detect some rules as to excellence regulator of spray dried powder viz.:

Decent color properties
Wanted element size and spread
Precise bulk thickness
Precise remaining moisture gratified
Absence of tackiness
Even composition & arrival

For spray drying of detergent powder, the machine varied powder is transformed into slurry of wanted solid fillings. Then following de-aeration [if obligatory] of slurry, it is cleaned to get constant viscidness and this slurry is impelled and sprayed via nozzle. Squirted slurry is desiccated by co-current/ countercurrent of hot air.

This spray dehydrated powder with suitable cooling is blended with optical brighteners, perborates, perfumes and enzymes. This substance is then packaged in desired packing.

Total processes of detergent powder industrial to stuffing of spray dehydrated powder can be completely semiautomatic, automatic, or manual contingent on the customer's requirement.


Trade Information
Shanghai Port

Telegraphic Transfer (T/T), Letter of Credit at Sight (Sight L/C), Cash in Advance (CID), Cash Advance (CA)
6 Months

Container Loading
South America, Eastern Europe, Central America, North America, Australia, Asia, Middle East, Africa

All India