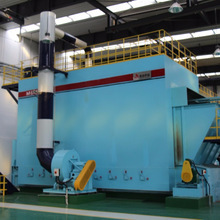 Coal Fired Burner
Product Description
Our coal-fired burner has such qualities that ignition temperature is stable and high. The coal burns completely and heat productivity is high. In addition, the fired length can be balanced, whereas, fire is spotless. It is appropriate for various kind of heater and generally utilized. The released pipe gas of our coal-fired burner achieves the standard of natural insurance.
Application field:

Synthetic response: for warming up paint/pitch response vessel, enacted carbon furnace and so on
Drying: impact heater slag, manganese mineral, throwing drying furnace and so forth
Physical warming: warm treatment heater, producing heater, finish heater and so on
Refining and thinking: color stuff concentrating heater, HCI/NaCl drying out the heater and so on
Softening: hot-plunge exciting heater, gold/silver purifying heater aluminum/copper liquefying heater and so forth
Heating: limestone furnace, bond oven and so forth
Benefits:
The vent gas discharge fulfills the need for ecological assurance.
Contrasted and conventional consuming methods, power cost decreases by 5-20%
The burning procedure is controlled automatically that which keeps ignition at the ideal express, the nature of the item is very steady.
A wide scope of temperature direction, effectively modify.
The task is simple and basic to learn.
High security, there is zero threat of blast
Hardware is durable that which is simple to keep up with a low running expense.
Trade Information
Contact us for information regarding our sample policy