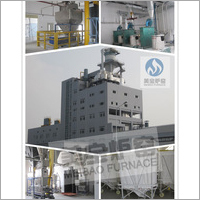 Biomass Fired Hot Air Furnace
Product Description
Biomass Fired Hot Air Furnace is required for providing high temperature heat to the industrial processes including extraction of metal, fractional distillation purpose, and in oil refineries. It works by burning the fuel which results in heating of tubes installed in the first part of the furnace which is known as firebox. Now combustion will take place and heat is transferred by the radiation. Biomass Fired Hot Air Furnace is generally comprised of an air blower, burner, radiant section, coil, shield & convection sections, breeching, damper, and stack.
Features:
Use of biomass as a fuel helps in reducing waste food
Decreases carbon dioxide output
Less effect on the environment as compared to fossil fuels
Biomass Fired Hot Air Furnace
We mainly provide washing powder spray drying tower, Polymeric aluminum spray drying tower, air drying equipment, rotary kiln drying equipment. Strong adaptability, high efficiency, stable are our advantages to design and manufacture drying equipment, such as: washing powder, polymeric aluminum, CaHPO4*2H2o, potash fertilizer, feldspar powder, quartz sand and other drying equipment.